Last Updated on August 4, 2020 by Sunny Staff
There's no denying that WordPress is one of the most popular website platforms on the internet. There are millions of websites hosted by WordPress. 
In the digital age, websites are a great way to reach your target audience. And social media can really turbocharge your efforts to get more visitors to your WordPress website. Recent studies show that there are over 3.8 billion people who use social media. That's almost half the population of the world!
Social media marketing is a great marketing strategy if done right. If you plan on using social media platforms for your website, we're here to help! Read on to discover seven social media marketing tips for your WordPress website.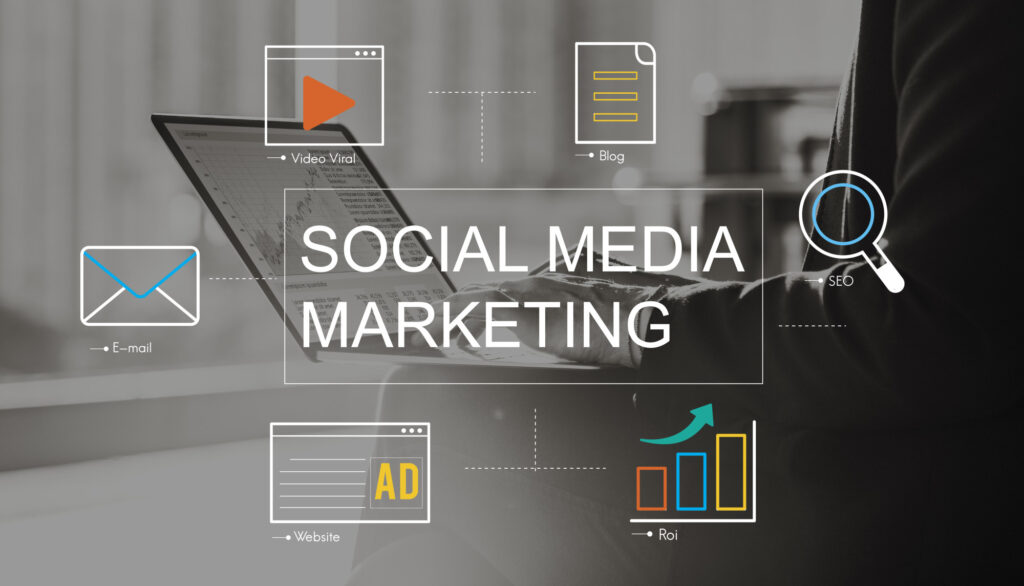 1. Use Responsive Mobile Friendly Themes
Keep in mind that a majority of people on social media are on their phones. More than half of all web traffic comes from mobile users. And mobile traffic is expected to continue to grow. No wonder that Google's search algorithm favors mobile-friendly websites!
Responsive design is just a fancy way of saying that your website will look great on desktops, laptops, mobile phones, and tablets. It will "respond" and adjust to the device so that it looks and functions well, regardless of the device. The images and fonts will resize to fit well on the device. The buttons and calls to action will scale to the right size and position. And so on…
If your website isn't responsive, it's going to look bad and function poorly on mobile, which will lead to the obvious – less user engagement and for eCommerce sites, a loss of sales.
A visitor must be able to navigate your website with ease, no matter the device.
In short, always make sure your WordPress theme is responsive! 
2. Automate As Much As You Can
It's unlikely you'll rely solely on one social media platform. To succeed, you'll likely have a Facebook account, an Instagram account, Pinterest boards, a LinkedIn account, and a Twitter feed. Managing all of these manually takes a lot of time.
In order to keep your head above water, you'll need help. A social media management tool helps manage all of your profiles and pages in one place.  From a single dashboard, they allow you to post on multiple platforms, schedule posts, monitor mentions, manage profiles, view performance analytics, and a number of other functions that can save you a ton of time.
Some of the better known and popular social media management tools are Buffer, HootSuite, or IFTTT. There are dozens of others, so take some time to find the one that's a great fit.
At Sunny HQ, our team of experts manages every aspect of your WordPress website, so you can focus on growing your business. Check out our
comprehensive management plans
. We'll save you hours of work and worry every month! Oh, and we can also help you get the most from your social media marketing!
3. Use Visual Content
Visual content is a powerful tool in social media marketing. Most people consider long blocks of text boring and unengaging. Visuals allow you to break down and present content in an interesting and concise manner.
Visual content also helps in raising brand awareness. Most people are visual learners. This means they tend to retain visual information better.
Consider using videos as your main visual content. Visitors are more likely to share content with videos. Studies show that 82% of web traffic worldwide will come from videos by 2021.
Visual content can also help in improving conversion rates. Visuals are more likely to provoke customer engagement. While harder and costlier to make, visual content is more effective and well worth the investment.
Here's a great article to help you embed YouTube videos on your website.
4. Make Sharing Easy
Adding social media buttons to your WordPress site should be a part of your web design. Yes, by default, WordPress allows you to include handles on your pages and posts, but the built-in feature is quite basic.
Use a WordPress social sharing plugin to maximize your efforts. Some of the popular options include MashShare, Social Snap, and Easy Social Share Buttons.
Remember: these are part of your page's Call-to-Action. A CTA is simply an invitation for your user to do something – sign up for a newsletter, buy a product, or share on social media. For social media CTA's, keep them visible but not blatantly in the way. If you keep them up top, people might get tempted to visit their Facebook and stay on it instead of exploring your site further.
5. Use Ad Targeting
Ad targeting is simply displaying ads for those users that meet your specific criteria. It's a way to make sure that you get the most from your advertising dollars. For example, if you sell cosmetics for young women, you're not going to want to have your ads displayed to a man in his 40's. 
Ad targeting takes advantage of a user's past behaviors, preferences, and demographics. You can target your audience based on their age, income, location, education, interests, past behavior, and a number of other elements.
All social media platforms like Instagram, Twitter, and Facebook offer ad targeting to some degree or another. Here is a nice primer to help get you started with advertising on many of the major social media platforms.
6. Optimize Your Website Pages and Blog Posts
If you are going to use social media to drive traffic to your site, you'll want to make sure your website is optimized for search. Otherwise, you'll be missing out on a huge benefit of all this new traffic. 
Search Engine Optimization (SEO) is the process by which you structure your site and content so that it is easily understandable by search engines. SEO also includes "backlinks" to your site. When a well-respected site links to your site, that sends a strong signal to Google that your site is to be trusted and the information is relevant.
The end goal of SEO is that your website pages rank high on Google search, resulting in traffic for the search terms that are important for your business. SEO encompasses a lot – way more than can be covered here. Neil Patel is a great resource for learning all the ins and out of SEO.
When you start getting visitors to your site from your social media channels, that sends a signal to Google that your site has valuable information that users are looking for.
So when your social media efforts pay off in the form of a ton of new traffic, you'll want to make sure that your site is search engine friendly; otherwise, you'll lose out on the additional traffic from organic search (organic search traffic is just another way of saying visitors that come to you from a Google search).
Here's a post by SEMRush if you want to find out more about how SEO and SMM are related.
A final point about SEO, website speed is super important. Google wants to send visitors to sites that load super quick. If your site loads in less than a couple of seconds, not only will this lead to users leaving your site, but you'll also rank lower in Google search. To see how your site ranks, use our website performance test here!
7. Use a Unified Social Inbox
Managing your accounts will take up a lot of time once you start picking up loyal customers. When managing a business and a website, you want to save as much time as possible. Using a unified social inbox can be a massive time-saver.
A unified social inbox combines all your social channels into a single stream. Making it much easier to monitor incoming messages, manage conversations, and respond to your audience.
Most social media management tools include a unified social inbox (see number 2 above). But if you are just getting started and operating on a shoestring budget, you can configure Gmail (or most other email applications) to sort your social media messages automatically.
Follow These Social Media Marketing Tips Today!
Social media marketing is a great strategy to pull more visitors to your website. Using social media platforms allows you to reach your target audience and communicate with them faster. It may take some time to get the ball rolling, but the results can be amazing.
Thank you for reading our article! If you found this helpful, consider exploring more of our guides. And if you have questions regarding anything WordPress, contact us here – we love to help!