Last Updated on June 4, 2020 by Sunny Staff
The strength of WordPress comes from its versatility. By using the right plugins, you can turn an average business site into something more powerful and dynamic.
To ensure that you are getting the most out of your e-commerce website, we have put together a list of the most powerful e-commerce plugins your e-commerce store should have.
Let's get to it!
1) WooCommerce
WooCommerce is one of the most popular plugins in WordPress today. It is very versatile and comes with the most powerful features that you need to build your online store.
There are hundreds of different WooCommerce extensions for you to choose from. This lets you completely customize the eCommerce experience for both yourself and your customers.
It also makes it super easy for you to manage your inventory. On top of that, this plugin is just as adept at selling physical goods as it is selling digital products and services.
This plugin comes pre-loaded with the payment options your customers are likely to use while making it easy for you to add more. And the easier you make it to pay, the more money you are likely to receive.
Whether you want to sell physical or digital products, subscriptions, or services, this plugin lets you accomplish that in a relatively simple and efficient platform.
It also lets you:
Embed products on any page
Sell affiliate products
Receive unlimited orders
After playing around with this plugin, you'll quickly discover why it's the most popular WordPress eCommerce option!
2) BigCommerce
BigCommerce is a cloud-based e-commerce platform which is now a plugin on WordPress.
You can build your business on WordPress on the front-end while you free up server resources on the back-end.
You can also use this plugin for catalog management, fulfilling orders, processing orders, and so on.
Another reason to love this plugin is that it enables you to sell across plenty of other channels. If you're interested in selling via Amazon, Facebook, and Instagram, you can embrace BigCommerce as a single solution for all your needs.
At Sunny HQ our WordPress experts manage every aspect of your WordPress website, so you can focus on growing your business. Check out our
comprehensive WordPress care plans
. We'll save you hours of work and worry every month. Oh, and if you need help selecting a plugin for your site, just let us know – we've got you covered!
3) Easy Digital Downloads
When it comes to WordPress eCommerce plugins, you must choose between breadth and depth. Do you want a plugin that does a little bit of everything or one that does one thing very well?
Easy Digital Downloads is one of those more focused plugins. Instead of being as broad as WooCommerce or BigCommerce, Easy Digital Downloads focuses primarily on managing and selling your various digital products.
If you're a writer, musician, or content creator who sells digital products, then this plugin is for you!
You won't have a hard time adding your products and then viewing them. It's great to use even for beginners.
Part of what makes EDD so popular for digital sales is the fact that the core plugin completely free. So if you have digital products to sell, you can download this plugin and have instant access to a versatile online sales platform.
If you like the experience of the core plugin, you can explore the benefits that come with the different EDD subscription options. But you can take as much time as you want to "try before you buy" with that free plugin.
4) CSS Hero
If you want a custom website, and yet you don't know how to code, then install this plugin.
CSS Hero gives you control over the design and style of your site without learning how to code.
This is excellent for DIYers or for anybody who wants to sell products and services without fiddling through their website.
5) Envira Gallery
For most e-commerce stores, having a gallery is essential to showcase your products to customers.
While WordPress doesn't directly allow you to create an image gallery without a plugin, it's still quite basic.
Envira Gallery lets you create a responsive gallery easily on the platform. You can set up several galleries, albums, open your images on lightbox pop-ups, and so on.
6) Ecwid
In making a purchase from an online store, a simple and professional-looking check-out page is critical and will boost your chances of making a sale.
Ecwid lets you create simple check-out pages that include all the important features you need in setting up an e-commerce site.
7) WP Cart Recovery
This plugin brings abandoned cart recovery and tracking to your WordPress store. Here are some of its functions:
Tracks emails and names of customers as soon as they enter the check-out process.
Cart repopulation and automated recovery emails.
Easy to use stats inside WordPress.
Views stats on the WordPress dashboard, tracks abandoned carts, configures automatic recovery email sending.
8) SendPulse Web Push
This plugin helps you add web push functionality to your site.
In a nutshell, web push solutions will send instant notifications to your followers and subscribers.
It's a great way to inform your customers about the latest news, sales, order status, and other important notifications.
9) WPForms Lite
You don't need to hire a developer to build a WordPress contact form. WPForms is a drag and drop form builder that lets you create beautiful contact forms, payment forms, and other kinds of forms in your site within minutes!
It's one of the most user-friendly contact forms in the market today.
10) OptinMonster
A popular CRO, or conversion rate optimization, this plugin allows you to convert abandoning site visitors, prompting them to become email subscribers.
It's a great plugin to use if you want to boost your email subscription list and improve your outreach efforts with your loyal customers.
11) SeedProd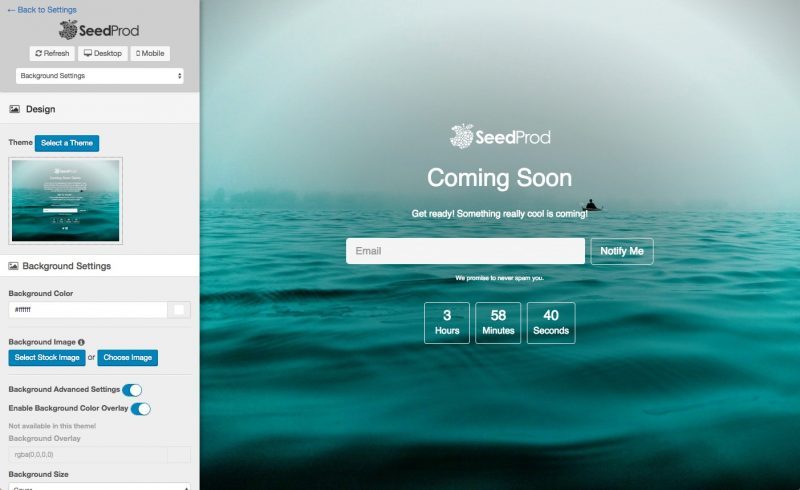 This is one of the best coming soon page and maintenance mode plugins in the market.
If your site is currently under construction, this plugin lets you create beautiful coming soon pages. It allows you to gather leads and grow your followers even if your site isn't available at the moment.
It has features such as a countdown timer, social media integration, email marketing services, and relatively hundreds of templates to choose from.
12) Yoast SEO
This popular WordPress plugin helps optimize your site for search results and improves your visibility for your target audience.
It comes with a whole lot of features aside from adding meta tags to help you boost your SEO rankings. Yoast SEO's interface is also quite user-friendly and relatively easy to use.
13) Relevanssi
With this plugin, you can limit the search only to your products by checking off only "page." That way, when users do a search, they won't find your blog content. Alternatively, if you only want them to find your blog content, just leave the "post" checked off.
It also brings up results based on partial terms. For instance, a user wants to find e-commerce packaging, even if they just type "ecomm packaging" the plugin will bring up the whole word as well.
14) WP Product Review
WP Product Review lets you interact with users through improved comments, displaying reviews in an easy-to-read format.
It also lets you generate more money by placing a Buy Now button in your posts. Rich snippets are supported as well.
15) Product Countdown
Product Countdown is a great scarcity plugin. With a countdown that shows some of your products are on sale, it brings out the scarcity mentality.
It generates a feeling of fear or anxiety from your prospects because they know that the price will rise after a certain period.
With just a few clicks, you can already create several scarcity-based countdown timers whenever one of your products is for sale.
16) AfterShip
This plugin allows you to add a tracking number automatically. After an order is fulfilled, all you need to do is to simply add a tracking number and then choose a courier.
The plugin supports approximately 550+ carriers worldwide, and you have the option to choose couriers by signing up for a free AfterShip account.
17) Wordfence Security
This is an endpoint firewall and malware scanner that's designed to protect WordPress.
It also has a Threat Defense Feed feature that equips it with the latest firewall rules, malicious IP addresses, and malware signatures all designed to keep your site safe.
It's one of the most comprehensive security solutions available in the market.
WordPress for eCommerce: Making Money Moves
So there you have it. Those are the 17 WordPress plugins that you need to help you create a successful e-commerce site.
These tools will help you market and manage your WordPress site, impress your prospects, and ultimately increase your revenue and sales!
If you need help with installing, check out our post on manually installing plugins.
We specialize in helping businesses host, manage, and maintain their WordPress sites. To see how we can boost your visibility and profitability, contact us today!